Gel Press represents the discipline of science meeting the discipline of art – and from that meeting emerged the first permanent gel mono-printing plate.
Since its founding, PolyGel has expanded into a multi-dimensional retail and private label company based in Whippany, New Jersey USA.
We are proud to continue bringing truly revolutionary tools to the art market through our expertise and innovations in gel research and development. The Gel Press brand is for all who love mono printing and printmaking. The surface is sensitive to capture more detail and texture, and engineered to work better and without the use of a press. The Gel Press brand of art products are made from the original formula, superior gel plate that is permanent and reusable!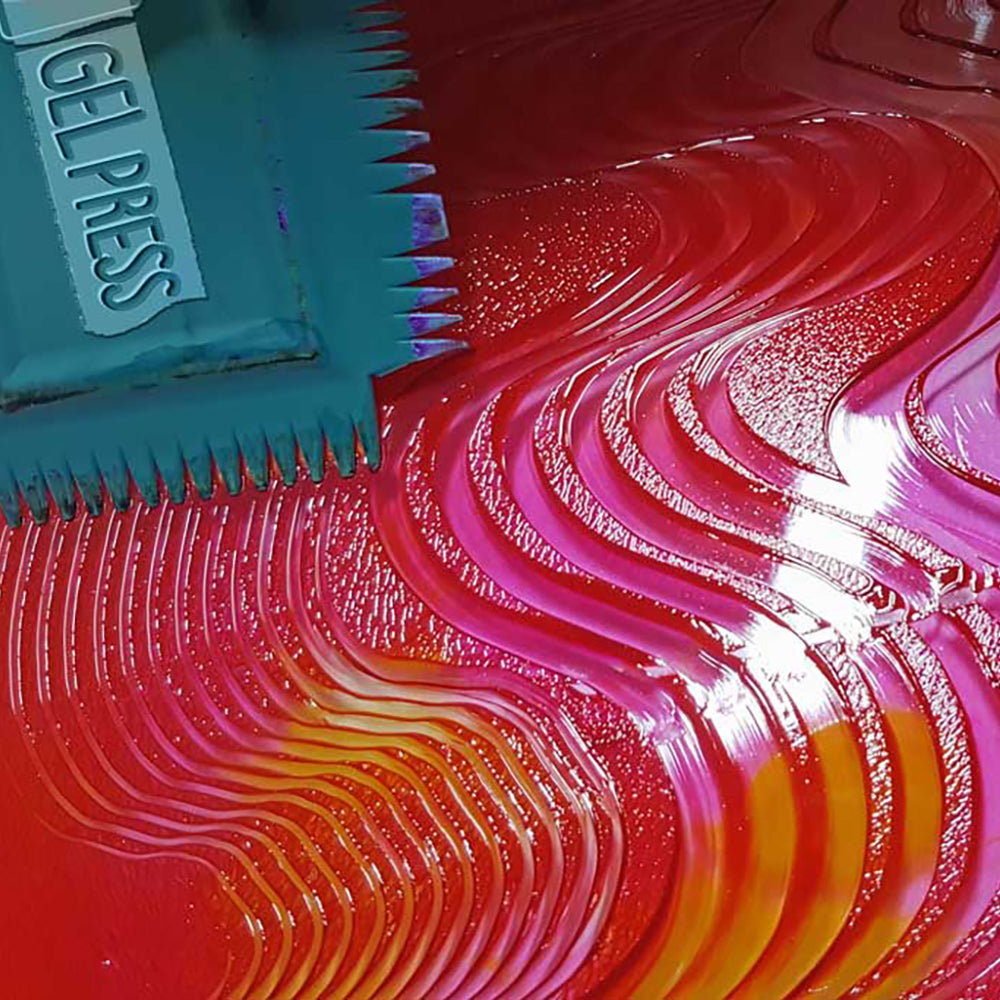 Easy to use
Apply a variety of media. Make your mark with textures or soft tools. Press your substrate on the gel plate. Lift the print and create your finished artwork.

Gel Press pioneered and continues leading edge research in the market to expand the boundaries of utilizing this material. Our expertise in gel printing makes Gel Press highly sought after for co-branding, in unique sizes, the gel printing plates with industry leading companies in the craft and hobby and fine arts fields.

Non-Toxic / Latex Free / Vegan / Cruelty Free

Gel Press Monoprinting Plates
3" x 5" for artist trading cards, tags, mini books & stamping
5" x 7" for art journals, prints & cards
6" x 6" for cards & textile fabric art
8" x 10" gel for art journals, printing, textile fabric, framed art & more
12" x 12" for full bleed prints, textile fabric work, canvas & scrapbooking
12" x 14" for textile fabric printing & large format printing
4", 6" and 8" round plates for multi-layered, overlapping designs
Gel Press Petites & Impressables
Gel Press Petites: these shapes are ideal for block printing, perfect for exact positioning for mosaic placement. Their low profile allows them to cling to an acrylic mount, or for placement in stamp positioning systems.

Gel Press Impressables Designer Series Gel Printing Plates: featuring an embossed design on the gel surface for detailed printing and stamping. Excellent for layering patterns for printmaking, textile fabric surface design and home decor. Available in two sizes and several designs. Can be used in combination with our traditional monoprinting plates, to effect the removal of media, or on their own.